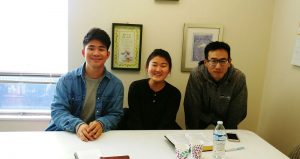 On 6th March, the Gratia Community Church, held a Group Bible study with Michael and Kaina on Gratia church.
Pastor Thomas taught them "Romans 1", He preached from Romans 1:18-32, "In Paul, he is truly owned by the Lord. Paul doesn't have himself inside. This is the confession of Paul that I Paul, exist only through Jesus Christ. In this phrase, the confession of Paul is in this phrase. He is confessing that he is dwelling in the love and the grace of the Lord. Paul says first the universe. When we see the universe, we could not deny God's existence and God's ability. In Greek universe is cosmos, which means order. the universe has precise order. Everything in this world does not exist by chance and the thing that exists has the reason for the existence."
He added, "Jesus's teaching is poor in spirit, meek, self-control, compassion, pure in heart, like this. He lived looking at only God, worshiping God, giving us all his life. Through this life, he gave all the glory to God. I hope we follow this life of agape.
Please pray for Gratia Community Church that reveals the glory of God.