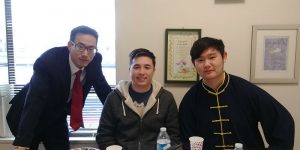 On Feb. 25th, 2018, the Gratia Community Church in Seattle, Washington held a Sunday service at Gratia Community Church in Christ.
Members of Gratia Church had a fellowship and pray together for each other in love of Christ.
Pastor Thomas Maeng preached a message Romans 3:21-26, He emphasized, "When the power of the lord's comes into our heart, sins disappear. Sins are bleached. Isaiah said 'Although you wash yourself with soda and use an abundance of soap, the stain of your guilt is still before me," with soap, with soda, can our sins be washed? It's impossible. There is only one thing which can wash our sins. It's only possible through the love of the lord. Though we are sinners, the lord did not ask our sins, he loved us conditionally. Only through this love, our sins can be washed away. It can be washed away by only grace. There is the only way to freedom."
Please pray for God to work through Gratia Church and expand the Gospel in the World.