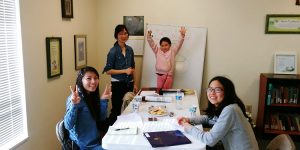 Recently, The Gratia Community Church, Washington welcomed a group of passionate students for a Korean-language class as part of church outreach efforts. The Seattle minister expressed gratitude to God. This day, 1 regular member and 1 newcomer visited a church.
Gratia Church members are seeking to teach Korean effectively and are introducing interesting and attractive aspects of Korean culture in the class.
They hope the student's Korean will improve through the class so that it can also give them practical benefit.
Please pray that Gratia Church outreach programs.